**This post contains affiliate links and I will be compensated if you make a purchase after clicking on my links.
I am an incredibly camera shy person. I prefer being the one taking the pictures instead of staring in them.
So when it was time to take my senior pictures I was quite nervous.
Since then I've become much more comfortable being in pictures.
In this post I'll share my top pieces of advice for taking senior pictures for the camera shy.
Understanding Camera Shyness
The first thing is to understand why you're camera shy. Personally, when in pictures I become incredibly self-conscious.
I stress about how I look and feel like it's never good enough. It isn't an easy thing to come to grips with when taking your senior pictures.
Reasons for Camera Shyness
Self-consciousness: Many people feel self-conscious about their appearance or pose, making them uncomfortable when a camera is pointed at them.
Unfamiliarity: Being in front of a camera might be a new and unfamiliar experience, especially for seniors who have not had many professional photo sessions before.
Performance anxiety: The pressure to look perfect and pose confidently can make some individuals feel anxious and stressed.
Previous negative experiences: A past negative experience with a photographer or unflattering photos can cause a person to be more hesitant the next time they are in front of a camera.
Overcoming Shyness in Photos
Here are some tips and strategies on overcoming camera shyness during senior photo sessions:
Build trust with the photographer: If you're comfortable and have a good rapport with the photographer, it becomes easier to relax and have fun. Make sure to communicate your concerns and preferences with the photographer. This was one of the most helpful things for me personally.
Prepare yourself: Familiarize yourself with some basic poses, practice facial expressions, and choose outfits that make you feel confident. Being well-prepared can help alleviate anxiety about the photo session. Look at senior picture ideas online to help get an idea of what you want to do in your session.
Focus on the experience: Remember that a senior picture is about capturing a special moment in your life. Try to enjoy the experience and see it as a fun opportunity to express your personality and style.
Choose a comfortable environment: Selecting a location that you are familiar with or one that holds a personal connection can help create a more relaxed atmosphere.
Practice mindfulness techniques: Breathing exercises or other relaxation techniques can help calm nerves before and during the photo session.
Gradual exposure: Start by taking selfies in private, experimenting with angles and lighting. This can help you become more familiar with posing for photos and build confidence in front of a camera.
Selecting the Right Photographer
For the camera shy, finding the right photographer is crucial for your senior pictures.
I didn't know the photographer I used for my senior pictures. By the end of the shoot I was much more comfortable but it took a while.
Years later when I took engagement pictures, I personally knew the photographer adn it was the most comfortable photoshoot I've ever done.
I was completely myself for the shoot.
I highly encourage you to find a photographer you are comfortable with. Even if they aren't the greatest photographer, when you're more comfortable with them you'll look better on camera.
If you don't know any photographers here what I recommend.
First, speak with friends and family to see who they used for their senior pictures. Then look through their portfolios to make sure their style matches what you're looking for.
Second, meet in person with the photographer before you're session. Just a little time with them will help you know if you can work with them.
Third, tell the photographer you're camera shy. Tell them you'd like a bit more direction and ask them for their advice before the photoshoot. By communicating it they'll be able to give you better direction during the shoot.
Last, don't hesitate to ask potential photographers any questions you may have. Ask them every question you have so that you feel completely comfortable before the shoot.
Capturing Personal Interests
Incorporating personal interests into your photoshoot can also help if you're camera shy. Incorporating props from sports, music, outdoor activities, etc. can help you feel more comfortable during your session.
Focusing on a sport you're passionate about can make for exciting and dynamic shots. If you love playing basketball, capture action shots dribbling or shooting a basket. For a more introspective scene, take pictures sitting on the bleachers, reflecting on their athletic journey.
Incorporating musical instruments is another great way to showcase interests and talents. If you play the guitar, take pictures casually strumming while sitting on a bench. For classical musicians, like a violinist, set up a shoot in an elegant, well-lit room to emphasize the sophistication of their craft.
If you're an artist or have a favorite artistic hobby, consider capturing you in your creative process. This could include painting outdoors, sketching in a studio, or working on a pottery wheel. The focus should always be on the activity, with the camera angle and lighting reflecting the passion and commitment to their art.
Don't forget about the quieter, more introspective hobbies. For avid readers, a serene library or an antique bookstore setting would make a cozy and intellectual backdrop for their portrait.
Remember that senior pictures should reflect your personality and interests. By showcasing your hobbies and talents, you'll feel a little less camera-shy.
Posing Techniques for the Camera Shy
Use natural poses that feel comfortable to you. Sit down or lean against a wall for a relaxed look. Sitting down givers you more options in hand placement and posture, making it easier to feel at ease. Additionally, walking shots can create dynamic images that minimize awkwardness.
Hand placement is crucial for creating natural and flattering poses. Here's a few ideas for hand placement during your senior photo session:
In your pockets
On your hips
Crossed over your chest
Holding onto nearby objects
Don't forget the importance of pockets as a simple yet effective posing tool. Pockets can provide the subject with an instant way to create an interesting pose, making them feel confident and relaxed.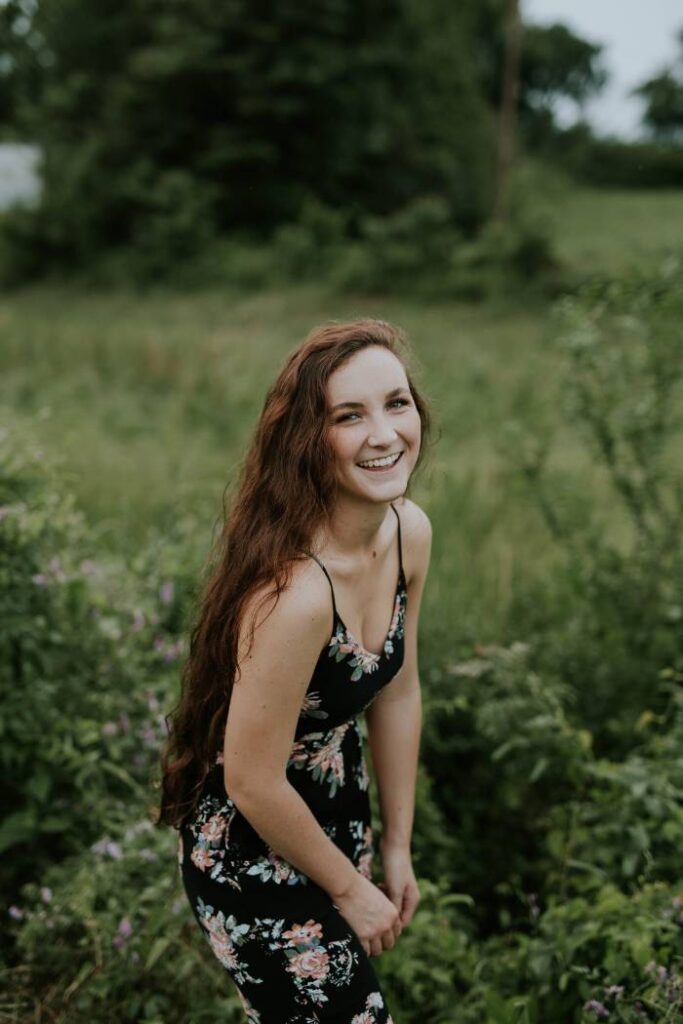 Here's a few other tips you can use during your senior picture session to help feel a little less camera shy.
Take a deep breath and relax your shoulders.
Remember there's no pressure and that they can experiment with different poses to see what feels most comfortable.
Let your photographer capture candid moments, like you laughing or interacting with your environment.
Creating a Comfortable Atmosphere
If you're a photographer, here's some tips on creating a comfortable atmosphere during a senior picture session for the camera shy.
Start by having a casual conversation with your subject to help them relax and feel at ease. This can include discussing their interests or any ideas they have for their photoshoot.
One way to become more knowledgeable about your subject's preferences is to have them complete a questionnaire beforehand. This will provide you with valuable information about their personality, favorite poses, and any concerns they might have. It helps you better understand their expectations, giving you a clearer direction for the session.
During the senior portrait session, remain neutral and approachable. Keep your tone and body language open, so your subject feels reassured and in control. This will allow them to be more comfortable expressing themselves and trying out different poses.
Encourage your subject to laugh and genuinely enjoy the experience. Share jokes or play their favorite music to keep the atmosphere light and fun. This will not only help them relax, but also translate into more natural and authentic photos.
Experimenting with different props and locations can also help your subject feel more at ease. This adds an element of spontaneity and personalization to their photos, capturing their unique personality.
By creating a comfortable atmosphere and being clear with your instructions, you'll help ensure a successful and enjoyable senior portrait session for both you and your camera-shy subject.