**This post contains affiliate links and I will be compensated if you make a purchase after clicking on my links.
If you're looking for a quick and easy Halloween project to decorate for the holiday, this is it. Outside of drying time, this project took me less than 30 minutes to put together.
Everything used in the project came from Michaels. And it cost a total of $10 for all the supplies.
Supplies
BOO letters
Black Paint
Halloween Ribbon
Wood Glue or Hot Glue
How to Make the Boo Door Hanger
Step 1: Sanding
Time: 10 minnutes
Depending on what letters you use, you may want to do some light sanding. I used unfinished letters from Michaels which needed a little sanding to look good. If these are the type of letters you use simply sand the face and round out the edges and you should be good to go.
Step 2: Painting
Time: 10 Minutes
Fortunately for us, the previous homeowners in our new home left behind way too many wire shelves. And they are perfect for using while spray painting.
I used a can of glossy black paint but also considered using a a deep purple or even orange. Give it appropriate drying time and flip over and paint the backside as well. You may also need to do 2 coats to get good coverage.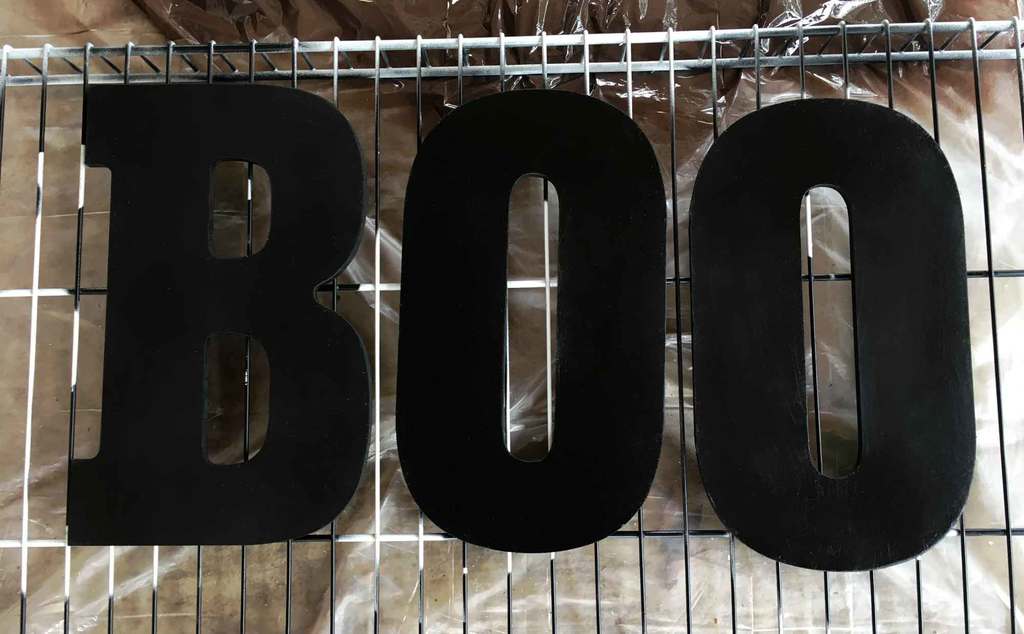 Step 3: Glue Halloween Cutouts
Time: 5 Minutes
Michaels had a ton of Halloween wood cutouts to choose from and they were already painted which saved a ton of time. If you really want the cutouts to stick you'll want to use wood glue though that can be a little difficult given how little there is to attach on some of the cutouts such as the Trick or Treat spider web shown below.
Instead of wood glue I used a hot glue gun to attach them, which should hold just fine.
Step 4: Tie Ribbon and Hang Up
Time: 5 Minutes
The last thing you need to do is use your ribbon to connect the letters and create a loop at the top so they can hang on your door. And there you have it, a quick and easy piece of Halloween decor.