**This post contains affiliate links and I will be compensated if you make a purchase after clicking on my links.
Bora Bora is one of the most beautiful destinations in the world.
Planning the perfect trip can feel a bit overwhelming so we've put together a simple guide to help you get started.
Where Exactly is Bora Bora?
Bora Bora is part of the islands of French Polynesia. It's made up of a central island surrounded by a reef and it's islets. The island is actually an extinct volcano. It's estimated that the island is 7 million years old. It's located 2,600 miles south of Hawaii and 160 miles northwest of Tahiti.
The two mountain peaks, Mount Pahia and Mount Otemanu, rise 2,385 feet from the ocean.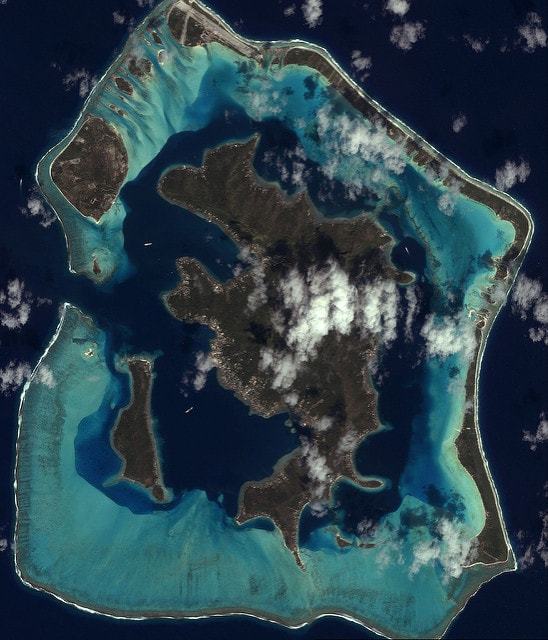 How Much Does it Cost to Stay There?
Prices in Bora Bora vary quite widely. You can find small hotels that cost as little as $100 a night. Or all inclusive resorts that sell packages for a few thousand dollars.
If you want to stay in an overwater bungalow expect to pay a higher price.
Is Bora Bora a Good Family Vacation Spot or Just for Couples?
Bora Bora is perhaps one of the most beautiful and tranquil places on the entire globe. Don't take my word for it. Just look at these pictures:
It's known as one of the most romantic locations on Earth. As such it's really viewed as a couples getaway. That doesn't mean you can't bring kids, there just isn't much that's focused on them on the island.
If you're planning a honeymoon, Bora Bora is the perfect place to go. Seriously. There really isn't a more perfect place for a honeymoon if your trying to just getaway from the world.
What is Transportation like on Bora Bora?
Since Bora Bora is made up of an island surrounded by islets you're pretty much guaranteed to travel by boat at least a few times.
The main airport is on one of Bora Bora's motu's so you'll need to take a quick ferry ride to the main island or to your resort.
Many of the premium resorts provide their own ferrying service, you'll just need to check with them to see if they offer this service. If they don't, you'll need to arrange for transportation to your resort or hotel.
When is the Best Time to Visit Bora Bora?
Given its tropical location the water surrounding Bora Bora remains the same throughout the year at a nice 80ish degrees.
For the best weather you'll want to skip Bora Bora's summer, which is the rainy season and instead go in the winter, which is April to October.
Where Should I stay?
Like I said above, you can find a place to stay for just about any budget on Bora Bora. Below is a sampling of the beautiful places you can stay.
Bora Bora Lagoon Resort & Spa
Famous for its activity-day organizing, Lagoon Resort is located on Motu Toopua, the hotel's private island, in Bora Bora's lagoon. There are so many fantastic activities available here. Including canoeing and kayaking, snorkeling in the lagoon, scuba diving, waterskiing, and jetskiing.
The hotel has several different types of rooms. Garden bungalows, beach bungalows, and, my favorite, overwater bungalows. If you'd like to stay at one of the top resorts in Bora Bora this is the one.
Four Seasons Resort Bora Bora
The Four Seasons Resort in Bora Bora is among the highest rated hotels on the island. And you'll certainly pay for it. This hotel can cost over $5,000 a night.
Staying there however will make you feel like royalty. This resort sits on Motu Tofari facing Bora Bora island. You'll wake up each morning looking at crystal blue waters and the gorgeous Bora Bora mountains. The Four Seasons has both overwater bungalows and ocean facing villas with their own pools. If your looking for the perfect honeymoon getaway this is it.
Hotel Matira
This is one of the few hotels geared towards families. Hotel Matira is the located on Matira island's one and only beach. Twenty minutes away from the airport, Hotel Matira boasts a beautiful view of Bora Bora's lagoon. An afternoon with the sunset, fun filled activities for the family, and a price that wouldn't cost you an arm and leg, Hotel Matira is an excellent option.
Village Temanuata Beach
With a variety of bungalow types, family, beach, garden and deluxe, Village Temanuata Beach is laid out on a beautiful stretch of white sandy beach. Your day's activities can be arranged by the hotel's management, including scuba and snorkeling, sunset cruises, canoe and outrigger rides and 4 x 4 safaris. A heavy hitter among Bora Bora hotels, Village Temanuata Beach knows just what their guests want.
Of course, these hotels aren't the only ones in Bora Bora. These are simply among the most popular.
What are the Top Restaurants?
Dining in Bora Bora is a different experience in itself. Bora Bora's cuisine is a mixture of French and local Tahitian cooking. Here are some of the finest Bora Bora restaurants for an unforgettable dining experience.
One of the most romantic restaurants in Bora Bora is La Villa Mahana. It is a very intimate restaurant, which offers dinner only and has only 6 tables. It is located inside a Tuscan-inspired villa. The menu features French cuisine mixed with Polynesian and Asian influences. Some examples of the fine food in the restaurant are risotto with aged parmesan and white truffle and beef tenderloin with gnocchi. For dessert, there is the coconut ice cream with chocolate soufflé. Advanced reservation is necessary and for confirmed reservations, there is a complimentary round transfers from the guests' hotel.
For casual dining, head to the La Bounty and Kaina Hut restaurants. La Bounty serves lunch and dinner daily. They are known for having excellent and reasonably-priced pizzas and other Italian food. Kaina Hut is a bistro-type of restaurant that is open daily, except Tuesdays. They offer a variety of culinary specialties from French to Japanese cuisines with live musical entertainment every week. Kaina Hut also offers roundtrip hotel transfers.
Another restaurant that offers a relaxed setting is Bloody Mary's, one of the most popular restaurants in Bora Bora. They have a wide selection of fresh fish and seafood which are cooked to order. They also offer chicken, steak and vegetarian dishes. One unique feature of this restaurant is that its floor is sand, which completes the tropical ambience. Bloody Mary's is known for affordable but delicious grilled sea foods.
There are plenty of other good restaurants in Bora Bora but the ones above are those you cannot miss on your trip. You can check out a full list of restaurants here.
What are the top activities in Bora Bora?
Lagoonarium
Many travelers to Bora Bora Island consider this a favorite and with good reason. Indeed, Bora Bora's exotic Lagoonarium has no equal anywhere in the world.
Of course, it is not the only lagoonarium to be found in French Polynesia. There is one in Tahiti as well, but it's nothing compared to the one in Bora Bora where you can swim and interact with the sea life.
An experienced diver will serve as your underwater guide as you swim alongside the rich marine life that Bora Bora is known for. In the Lagoonarium, you might find dolphins, turtles, sharks, rays, and tropical fishes that add a variety of colors to the clear blue water.
Aquascope
Have you ever been in a "reverse aquarium?" The Aquascope, a unique semi-submersible watercraft that lets you see the sea life without getting wet.
Imagine yourself inside a small space, watching colorful schools of fishes swimming beneath you, separated only by thick glass windows. For over 15 years, the Aquascope has delighted many a visitor to Bora Bora Island.
4×4 Expeditions
If your ready for a break from the water, a 4×4 expedition is the perfect way to explore Bora Bora. On your journey you'll explore the lush jungle and enjoy breathtaking views of the lagoon. You'll also get to see the incredible navel guns left behind after WWII.
Diving
This is one activity you really can't skip when visiting Bora Bora. If full on diving isn't your thing you should at least do some snorkeling.
Bora Bora has a number of excellent dive spots and dive companies that will guide you as you explore the lagoon. You can check out the best dive spots here.
There are, of course, many more unique sights and fascinating attractions that Bora Bora has to offer. The ones mentioned above are just a few of the top attractions you shouldn't miss when you visit this beautiful tropical island.