**This post contains affiliate links and I will be compensated if you make a purchase after clicking on my links.
This article will help you find that perfect Valentine's Day wreath for your front door.
Valentine's Day is one of my favorite holidays. I think having a day dedicated to expressing love to the special people in our lives is a wonderful thing. I also like to give my husband a small personalized Valentine's Day gift to express how much I appreciate him.
One way I like to bring in the spirit of the holiday is with some simple decor around our home. I've always been a huge fan of wreaths on our door. At this point our door basically has a wreath on it celebrating the season all year long.
And, since Valentine's day is no exception I've put together a list of some cute wreaths I've found on the web.Some of these wreaths require a little DIY magic while others can be purchased ready to go.
Valentine's Day Wreaths to Buy
If making your own is a bit of a stretch, there are so many festive Valentine's Day wreaths available to purchase. Etsy is one of my favorite places to search for wreaths. When shopping on Etsy you get to support small businesses while also getting the option to customize your item in many cases.
Notable Wreaths Burlap Wreath
Love this cute wreath made by Notable Wreaths on Etsy. It's made from burlap and is available in a few different sizes. Notable Wreaths currently has 21 Valentine's Day wreaths available and many more for other holidays and occasions.
Wreaths4EveryReason Valentine's Day Wreath
Welcome guests into your home this February with this brightly colored Valentine's Day wreath made by Wreaths4EveryReason on Etsy. This wreath is made using burlap, jute, and deco mesh and features wire ribbon that can be reshaped when needed.
Wreaths4EveryReason has hundreds of wreaths available including over 30 Valentine's Day wreaths.
Burlap Heart Shaped Wreath
If you're looking to cover your home in hearts, this is the perfect wreath for you. This burlap, heart shaped wreath is made by Burlap Blooms on Etsy. It's available in two different sizes and the edges of the burlap are sewn to prevent any fraying.
Heart Shapped Wreath
Love this festive tulip wreath made by The Wreath Depot. This cute wreath is perfect for both Valentine's Day and spring in general.

Pink Door Wreaths
Another great, simple Valentine's Day wreath is this mesh, burlap, and jute one by Pink Door Wreaths. This wreath is one of the larger ones on the list measuring 24 inches in diameter.
DIY Valentine's Day Wreath Inspiration
If you're ready to make your own Valentine's Day wreath there are some fantastic tutorials out there. Michael's is my go to place for crafting supplies by Joann's Fabric is also a great option. Pinterest is full of great ideas, I've included a few below. You can also find some great tutorials on YouTube like the one below that shows you how to make 4 different simple Valentine's Day wreaths.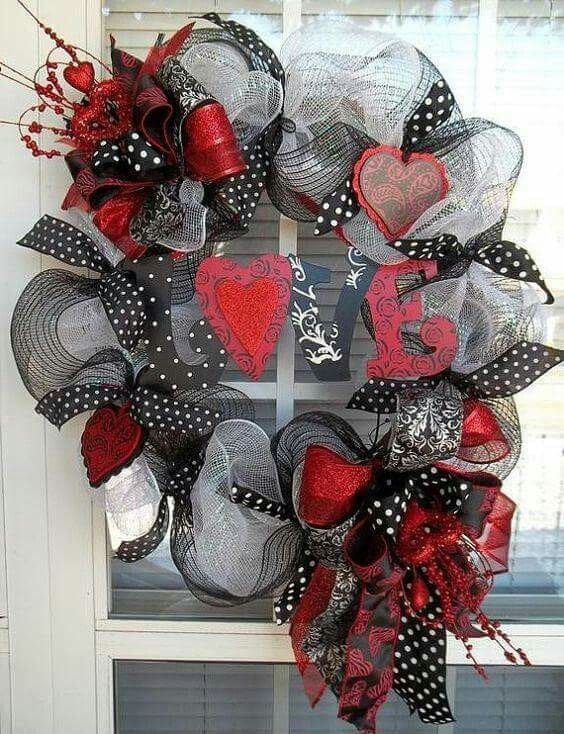 Source: Pinterest

Source: Pinterest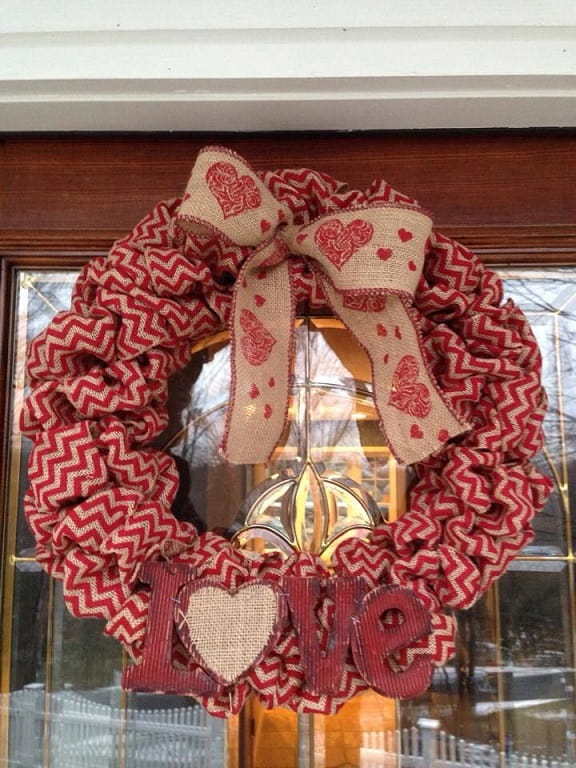 Source: Pinterest
Source: Pinterest
Source: Pinterest
(I tried to find the original sources for the images above but that proved elusive. If one of these is yours please let me know!)