**This post contains affiliate links and I will be compensated if you make a purchase after clicking on my links.
Graduation season is quickly approaching and if you or a one of your children is graduating this year there's a good chance you'll be sending out at least a few graduation announcements, grad party invites, or graduation invitations.
I absolutely love the graduation season. From making graduation leis to planning that perfect graduation party there's so many fun things you can do to celebrate your grad.
I've broken up these invitations into a few different categories so feel free to use the table of contents below to jump to the section you want to see the most.
As you'll see, all of the designs I've selected are available on Zazzle. This is my favorite place to shop for party invitations, baby announcements, and basically any other card you could send out.
If you've never used their templates I've created a brief tutorial to walk you through the process. Just click the box below and the instructions will expand.
Quick Guide on Using Zazzle
When you click one of the links below you'll land on that invitation template page. Once you're on that page you'll click the blue Personalize button.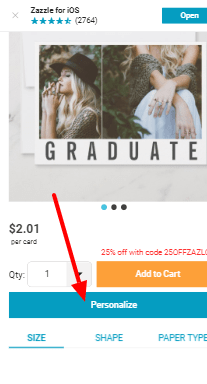 Next you'll be able to start changing the fields on the card. Make sure you change the date, name, school, and any other info that's on the template.
Then you'll want to make sure you change any pictures that are on the graduation invitation.
Next up you can make more personalization options like changing the font and font color, and editing the size of the text.
Once you've finished those changes click done in the upper right corner. The last thing you may want to look at is changing the size, shape, or paper type of the card.
Once you're done with that just click add to cart. And remember to select the number of invitations you'll need. If you missed any of the personalization options Zazzle will warn you. Then you can go back and make sure you edit them.
That's all there is too it. It's really a simple process, it just takes a little time to make all the changes you need.
My Favorite Grad Invite Templates
After sifting through hundreds of graduation invitation templates, these are my top 3 all time favorites.
1. 4 Photo Trendy Graduation Announcement – The back of this announcement includes 3 more pictures along with details about the party.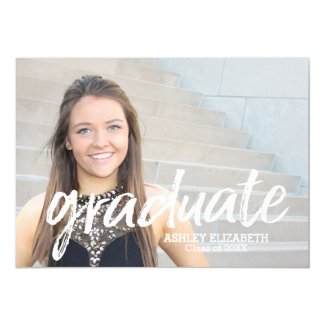 by MarshEnterprises
2. Rose Gold Graduate Photo Graduation Party Invitation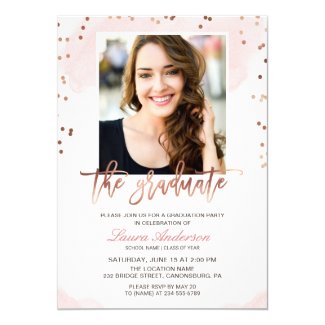 by CardHunter
3. Refined | Photo Graduation Party Invitation – A simple invitation with all the details on the back.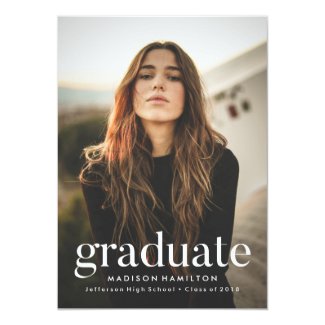 by latebloom
Script Graduation Invite Templates
4. Elegant Script Blue Gray Photo Graduation Party Invitation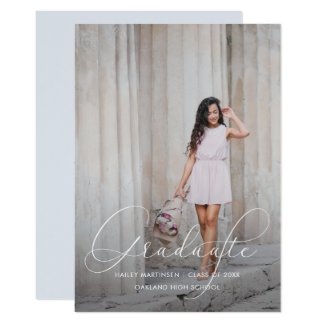 by Spindle_and_Rye
5. Graceful Script Editable Color Graduation Invite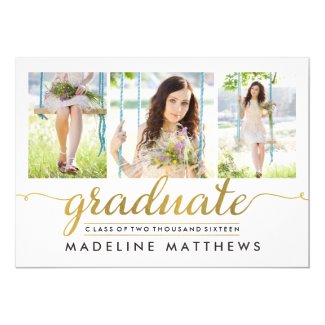 by berryberrysweet
6. Photo Graduation Invitation | Graduate in Script – This is one of my favorite graduation templates. Its incredible simple and clean.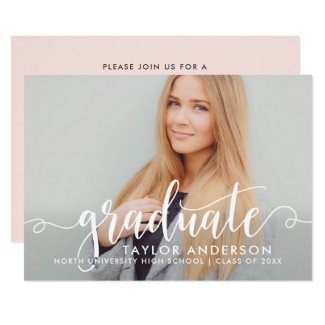 by Plush_Paper
7. Elegant Gold Script 3 Photo Graduation Party Invitation – I love this 3 picture template showing them as a baby, a younger child, and then one of their grad pictures.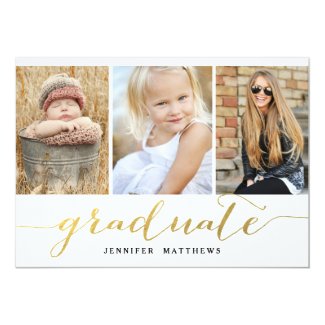 by monogramgallery
8. Black Elegant Script Graduation Announcement – The back of this invite show all the details about the graduation party along with where and when they are graduating.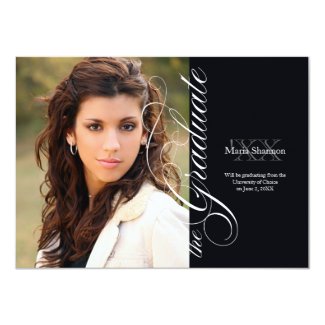 by Kimiyo_Prints
9. Graceful Script Graduation Card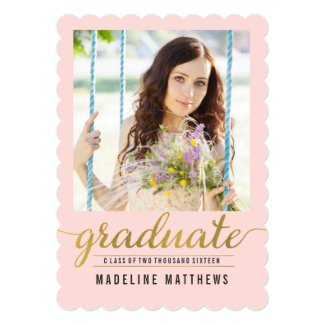 by berryberrysweet
Modern Style Grad Invitation Templates
10. Modern Graduation Party Invitation – A simple a straightforward card. The back of the card is blank, though you could easily add something if you wanted to convey more information.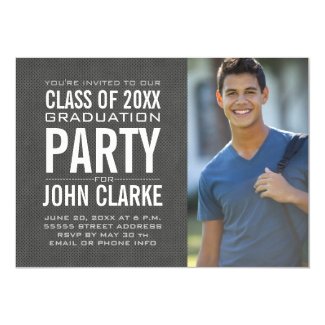 by zazzleoccasions
11. Clean & Modern 2 Photo Graduation Invitation – Includes a second photo on the back along with all of the grad party details.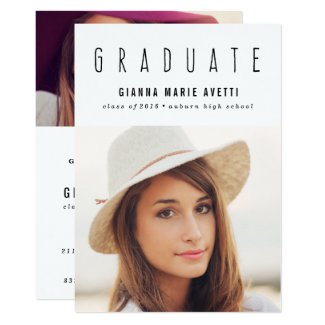 by youngwanderlust
12. Modern Minimalist 2 Photo Graduation Announcement – I may be a bit of a nerd but I really like the font used on this graduation invitation template.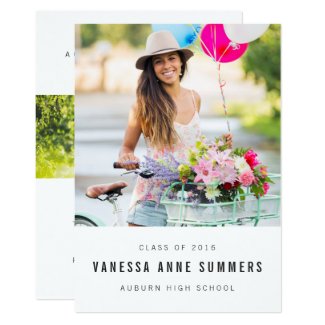 by youngwanderlust
13. Modern Three Photo Graduation Party Invitation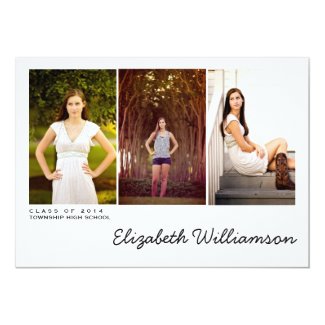 by kat_parrella
Black and White Grad Invite Templates
14. Modern 6 Photo Script Graduation Invite – Black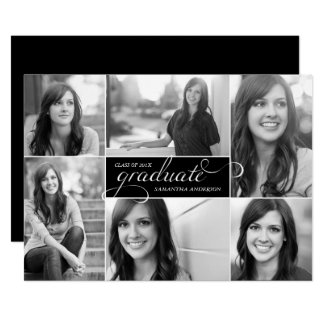 by oddowl
15. Black White & Gold Script | Graduate Photo Party Invitation – The pop of gold script really makes this invitation stand out. If you have some black and white pictures to use this could definitely be a classy grad invitation.
by Eugene_Designs
16. Headline | Photo Graduation Announcement & Invite
by RedwoodAndVine
No Picture Graduation Invitation Templates
17. Gold Cap Graduation Invitation – Another option if you'd rather forgo the picture on the invitation.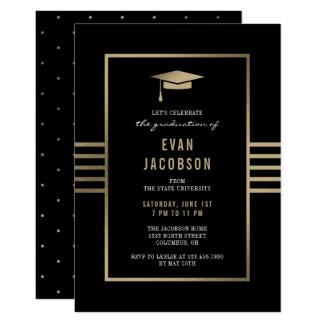 by berryberrysweet
18. Modern Stripes Floral Gold Script Graduation Party Invitation – While I'm a huge fan of grad announcements that include a picture of the grad, this scripted grad template is another alternative when you weren't able to get pictures or you just want to mix it up a bit.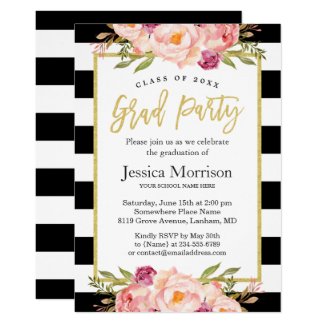 by CardHunter
19. Shiny Confetti Graduation Party Invitation White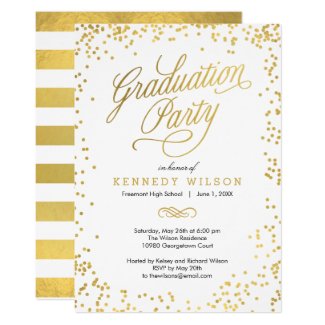 by berryberrysweet
20. Midsummer Floral Graduation Party Invitation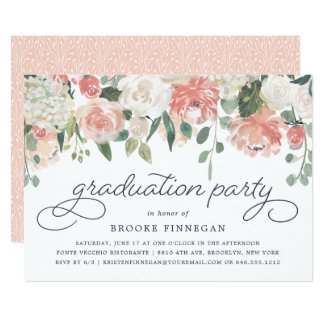 by RedwoodAndVine
21. Modern Gold Glitter Sparkles Graduation Party Invitation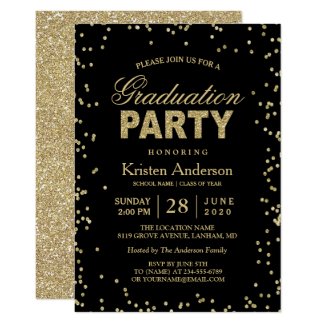 by CardHunter