**This post contains affiliate links and I will be compensated if you make a purchase after clicking on my links.
In this article I'll share a few of my favorite appropriate high school graduation gift from grandparents.
I was recently asked for some ideas of appropriate high school graduation gifts from grandparents.
I know for many grandparents figuring this out can be quite challenging depending on your relationship with your grandchildren.
I enlisted the help of some neighbors and friends who are grandparents and recently had high school students graduate to see what thoughts and ideas they had (and what they actually gave).
Before I jump into the list of ideas, by far the most common high school graduation gift from grandparents was cash. It's something they know the graduate needs and it's relatively easy to give.
Now personally, I don't really like giving cash as a gift because it just doesn't feel that personal. So I always recommend giving something small in addition to the cash.
If cash is what you want to give, head over to my article on ideas for gifting cash for graduation where I'll share some of my favorite fun and creative ways to gift cash money (you can also check out my post on the best high school graduation gifts).
Now, on to my list of appropriate high school graduation gifts grandparents can give.
How Much Should Grandparents Spend on a High School Graduation Gift?
I've seen multiple websites claim that $20 to $50 is the appropriate amount grandparents should spend on a high school graduation.
I'll be honest, I have no idea who made up that number.
Someone probably made it up and all these websites just keep repeating the same thing.
The appropriate amount of money to spend is completely up to you and your situation. Most grandparents who are retired are on a fixed income and money can be tight. In that situation, give what you feel is right without hurting your own financial position. Never go into any kind of debt buying a high school graduation gift.
Other grandparents may still be working or have a little more flexibility in their budget to spend more. But before you buy a big ticket item it may be a good idea to talk to their parents to see what they are ok with. They may not like the idea of a grandparent giving a large gift. 
You should also think about the number of grandchildren you have. If there are many and this is the first one graduating from high school you may not want to set a precedent with an expensive gift that you won't be able to do with all of them.
Whatever your position, don't give in to some internet article telling you you need to spend $XX amount (and yes, I see the irony in that statement). Some of the best and most cherished gifts from my grandparents were homemade ones that I still have today that cost them almost nothing to give.
Buying a Gift Together
Another idea is to talk to the graduates parents or other family members to see if everyone wants to combine their money to buy a more expensive graduation gift like a computer or help with the first semester's expenses.
This can be a great way to give the high school graduate something they really need but can't afford. 
My own family has done this several times in order to give something a bit more expensive without one individual bearing that cost.
High School Graduation Gifts from Grandparents by Budget
Below I'll share my favorite gift ideas by budget range. I recommend skimming through the entire list to see if anything sparks an idea but also feel free to use the links below to jump to the section you want to read.
Homemade to $10
One of my grandpas was a woodworker and my high school graduation gift was a pair of beautiful and unique bookends he handcarved just for me. They went with me to college and even still sit on the top shelf of my bookcase. They are a meaningful gift that I will always cherish.
You too likely have a hobby or special talent you can share in the form of a gift. It could be something you sew, knit, carve, paint, create, draw, write, etc.
Everyone has something unique they can share. And don't ignore your own unique life experience. Yes, you were a high school/college student during a different period of time but at their core, you experienced many of the same self doubt and worries that they have are experiencing now.
Letter
So consider writing down some of your own memories about that time in your life and share what you learned and what you did because of those. Share how you decided what line of work to pursue or what experiences you loved during this time of life or even what you regret not doing. 
All of this can be packaged into a wonderful letter they can hold on to and reread over the years. 
Family Heirlooms and Keepsakes
Your own keepsakes can also make wonderful gifts. A piece of your jewelry you know they love makes for a very personal gift. A portion of your coin collection, a special painting, etc. There are many things that could be keepsakes or family heirlooms, just make sure it's something small since they are in a period of life where they tend to move a lot. Giving them that giant chest or large armoire probably isn't a good idea.
Books
Another budget friendly gift You could give is books. You can pull one off your own shelf and give it to them. Or to make it a bit more personal, add a note to it sharing some of your favorite passages from the book. 
You can also buy a new book since they often fall within this budget range. Here's some of the best books to gift to high school students.
Need some recommendations? Check out my post of the best books to give high school graduates.
Graduation Lei
Another great homemade graduation gift is a candy lei. I've made many of these during my life and received quite a few when I graduated high school myself.
Here's my basic tutorial on how to make a candy lei. I also have a tutorial on how to create a money lei you could check out if you want to add money to your candy lei.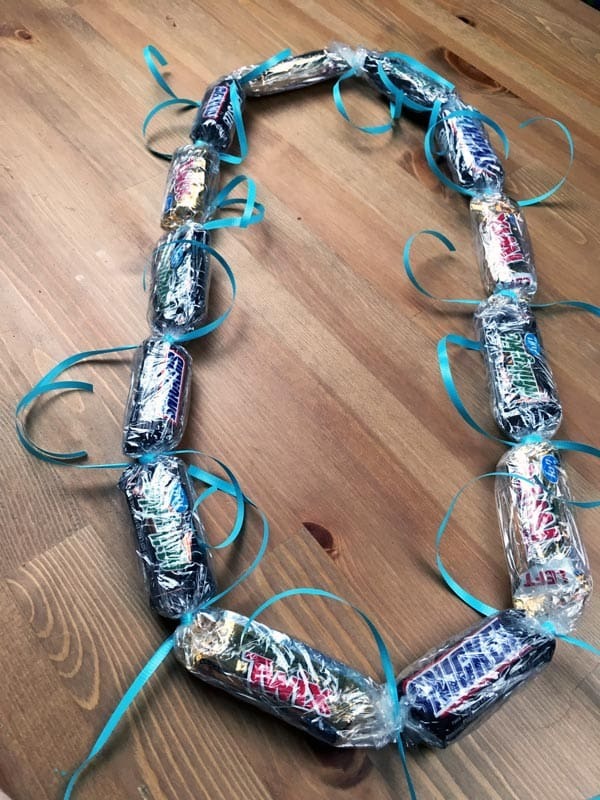 $10-50 Gifts from Grandparents
There are tons of great gift ideas in this price range that they'll love to receive and still carry that personal touch.
Immersion Blender
I know, I know. This seems like a weird gift.
Honestly, you probably aren't even reading this because you saw "immersion blender" and immediately thought, nope. And skipped to the next item on the list. 
But here's why this is such a great, unexpected gift:
Space in a dorm or apartment is at a premium. So they need tools that can do a lot.
Immersion blenders can make smoothies, protein shakes, smoothies, soups, smoothies, cake batter, salsa and so much more (I could really go for a delicious post class smoothie right now). 
They are easier to clean then a blender
Their roommates won't know how to use it so they won't steal it and leave it dirty in the sink.
They really are a perfect gift for a high school grad from their grandparent.
Packing Organizers
Staying organized as a college students is a huge priority and always a challenge in small dorms and apartments. Give them a hand with these simple packing organizers.
They can be used in their luggage when they're traveling and then used in their dorm/apartment to pack away out of season clothes or simply to keep their drawers organized. 
There are several sizes available but I'd recommend this one since it's short enough to fit in most dresser drawers.
Desk Supplies
Once I made it to school I made way too many trips to the store because of the little desk supplies I forgot (hello three hole punch a stapler I never even thought about buying).
Here's the essentials I recommend picking up for them. You can mix and match and make your own desk kit to give as a gift:
3M command strips (ok, not really a desk supply but it fits the theme)
Sticky notes (but like a small pack, not the giant 24+ packs)
Laptop Lap Desk (More on this below)
You could also take a walk through your local office supply store and build your own box and ship it to them if they live far away. Be sure to add in a few extra treats.
Laptop Lap Desk
This is an underrated gift.
I used mine constantly in college and my roommates were always jealous (read, stealing it when I was out of the apartment).
Here's what to look for in a good laptop lap desk:
Plenty of space for up to a 17" computer
Space for a mouse
A comfy, cushioned wrist rest for those long papers.
A slot for their phone (not necessary but a nice bonus)
A pad on the back so it doesn't eat into their legs
This particular laptop lap desk is my favorite.
But this one is a bit more simple and budget friendly.
$50-125 Gift Range
In this price range you start getting into some really nice high school graduation gifts grandparents can give. Not to downplay how great previously mentioned gifts are. These ones just might be on the graduates wish list. 
Wireless Headphones
A gift they will literally call and thank you for when the students next door decide to start a band (or when their roommate plays the trombone like mine did).
Prices on these headphones have come down a ton in the last couple of years and you can now get some high quality noise cancelling headphones for less than $100.
These Wyze headphones are one of my top picks and have been sitting on my desk and my head for almost a year with zero issues. I highly recommend them.
They cut out most outside sound
Sound quality is top notch.
They're comfortable to wear for hours at a time.
I'm shocked at how long the battery lasts
These Sony ones are occasionally on sale so if you see them below $100 grab them.
Otherwise, I'd go with the one above or this one made by Anker. While I haven't used them personally, they have great reviews and the other Anker products I have owned were top quality so I expect these to be just as good.
Portable Hard Drive
Boring? Yes
Incredibly helpful? Absolutely.
Give them a TB of extra storage space and they'll never have to worry about running out of room. I'd recommend this gift if they do (or plan to do) any kind of graphics or video work. Those files can get huge and uploading them to the cloud can be painfully slow on college campus internet connections. 
This SSD from SanDisk is a high quality drive with 1 TB of storage that should take care of all their needs. SSD drives are great because of their quick speed.
If you want something on the lower end of the price scale then take a look at this one from Western Digital. It actually has 4 TB of storage space but will run a bit slower and have longer download times since it's an HDD.
Mirror Jewelry Cabinet
If she's headed to school with tons of jewelry then this is definitely an appropriate high school graduation gift from grandparents. This sleek mirror is loaded with storage space and includes 
98 ring slots
80 earring slots
24 necklace hooks
Multiple cosmetic shelves and brush holders.
Mirror Jewelry Cabinet
This versatile jewelry cabinet can easily be hung on the wall or door, exactly what a college student needs.
Buy Now
We earn a commission if you make a purchase, at no additional cost to you.
12/01/2023 12:06 am GMT
It can be hung on the back of a door to maximize space or be mounted directly to the wall.
Plus, huge bonus for college students, it comes with a key to lock everything up so those nosy roommates can't grab that coveted necklace.
Want to make this gift extra special? 
Add some of your own jewelry to the gift for them to discover when they open it.
Echo Show 8
It's like a mini TV they can stick on their desk to watch YouTube instead of homework.
I love my Echo Show and highly recommend it as a fun gift for any high school graduate. It plays music, connects to every major video streaming platform, tells me the weather, wakes me up, and answers my homework questions, Alexa, what year did Frank Lloyd Wright design the Waterfall house?
There's also the Echo Show 5 but the screen is just a bit too small so I recommend going with the 8 so they don't ruin their eyes squinting at the screen.
HP Portable Photo Printer
I love these little photo printers. It's like a polaroid camera but 100x better quality.
This one from HP prints 2×3 photos on sticker backed paper so they can easily print pictures and stick them right on the wall or in a scrapbook (you can push your budget for this one that prints 4×6).
It connects via bluetooth and has an app that lets you easily edit photos before printing. Plus, more than one person can use it to print so if they let them, their roommates can also print fun pictures of their adventures.
Printer
Help them get that paper turned in without stressing about finding a printer on campus that isn't broken.
Buying a printer can be a huge headache. I swear no one knows how to make a halfway decent printer. However, I've used this printer for a while now and it's actually worked quite well and it's the perfect compact size for a dorm or apartment. 
It's wifi enabled so they don't need to connect a wire to print. Plus it's able to print everything from small photos to multi page papers quickly. Plus it can print double sided, something many small printers can't do. It's another appropriate high school graduation gift from grandparents.
$150+ Gift Range
If your looking to spend a bit more then there's tons of excellent gifts you could give. Here's a few of my favorite gifts in this price range.
Computer Monitor
One of the biggest productivity hacks of all time is two screens. It seriously saves so much time.
While switching between applications may not seem like a big deal, when you're working on a long research paper you'll find yourself doing iit over and over again.
Bring in two screens and suddenly you just turn your head and you can see everything you need to.
If you want to help them be more productive this is the best gift you could give and one they are unlikely to buy for themselves.
This is the monitor I use and it's great but if you bump up the budget a bit you can get one of these 32" curved monitors that give them more screen real estate and can keep multiple windows in view at a time.
iPad Air
This is one of the most powerful tablets available right now. And it functions just as good as almost any laptop. I'd venture to guess it's high up on the list of wishlist items your high school student would love to get from grandma or grandpa.
They can use it to slip in their backpack and take notes during class. That's the way I used mine most often. It can also handle heavy graphic and video editing and of course basic web browsing and other computer tasks. 
The iPad Air also works with Apple pencil so they can take notes by hand if that's their style.
If you go with the 256 GB one so they can download more videos but the 64 GB one should be fine for most needs.
TV
I was fortunate enough to be the roommate who had a TV and basically everyone loved me for it (pats self on back). 
So, if you want to give them one of those gifts they are unlikely to buy for themselves any time soon a decent TV is definitely at the top of the list. I'm a huge fan of Samsung TVs. They last forever and the image is clear and crisp with vibrant colors.
This simple 40 inch TV is just the right size for most dorm/apartment applications and I highly recommend it.
Mattress
If they are leaving home after graduating high school there's a good shot they're going to need a mattress. Help them get some much needed sleep with a quality mattress instead of that beaten down, dust infested one they'll find in most dorms. 
This is one you may want to send once they actually move since it can be a total pain to move across the state or country with.
Just give them a nice card and tell them that you want to pay for a good mattress once they've found a place to live.
Final Suggestions for High School Graduation Gifts from the Grandparents
Picking out an appropriate high school graduation gift can be a stressful time as a grandparent. You may feel disconnected from your grandkids and unsure of what to get them.
My advice is to talk to their parents to see what they think. You can even call your grandkid and just ask them what they'd like for a graduation gift. Some kids will freely give you ideas while others may offer up the old, "you don't need to get me anything" excuse.
Whatever you do get them, I always recommend including a thoughtful card letting them know how much they mean to you and wishing them luck with whatever comes next.
I've written several other articles on high school grad gift ideas so if you're looking for more, check these out: