**This post contains affiliate links and I will be compensated if you make a purchase after clicking on my links.
The holiday season really isn't complete without at least a few candy canes. We have them adorning our Christmas Tree every year. Most of them are eaten long before Christmas day.
I particularly love the multi colored ones!
While there are several ways you could put together this candy lei I thought I'd keep it simple by wrapping small pieces of candy cane in saran wrap. This candy cane necklace is the perfect accessory for all of your holiday parties.
Scroll down through the tutorial to learn how to make your own!
Step 1: Materials
For this candy cane lei you'll need the following items:
Saran wrap
Curling ribbon
Scissors
12-20 candy canes depending on how long you want your lei
Step 2: Cut the Candy Canes
To cut the candy canes I used a pair of kitchen scissors. Cutting candy canes is a messy process so be ready for candy cane shards to fly all over the place.
If you want to play it really safe you may want to wear protective goggles. Candy cane is hard and sharp and a tiny piece in your eye will definitely not feel good.
You should also try to cut the candy canes in a confined space so the pieces don't fly too far. I would recommend cutting them to be about 1 inch long.
Step 3: Roll up Candy Canes in Saran Wrap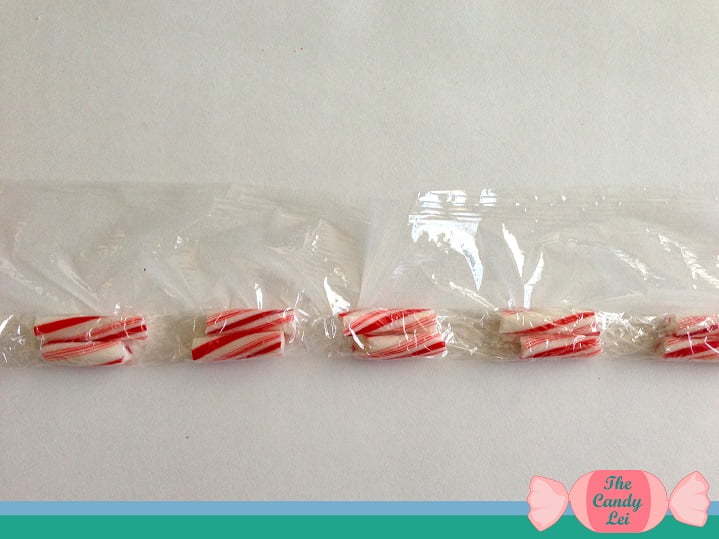 Roll out a single sheet of saran wrap that's approximately  20-24 inches long. Then using your scissors cut the saran wrap in half length wise.
So you'll end up with two strips of saran wrap that are 20-24 inches long.
Place your candy cane pieces in pairs across the bottom 1/3 of the saran wrap. Leave about 1/4 to 1/2 inch in between each pair. Also leave about 3/4-1 inch of extra saran wrap on each end.
Next you'll need to roll up the saran wrap. This part is a little tricky. First fold the saran wrap up over the candy canes. Then using both hands roll up the row of candy canes in the saran wrap.
Step 4: Cut Ribbon
Cut your ribbon to be about 9 inches in length. This will give you enough room to tie the saran wrap and curl the ribbon.
Step 5: Tie the Candy Cane Lei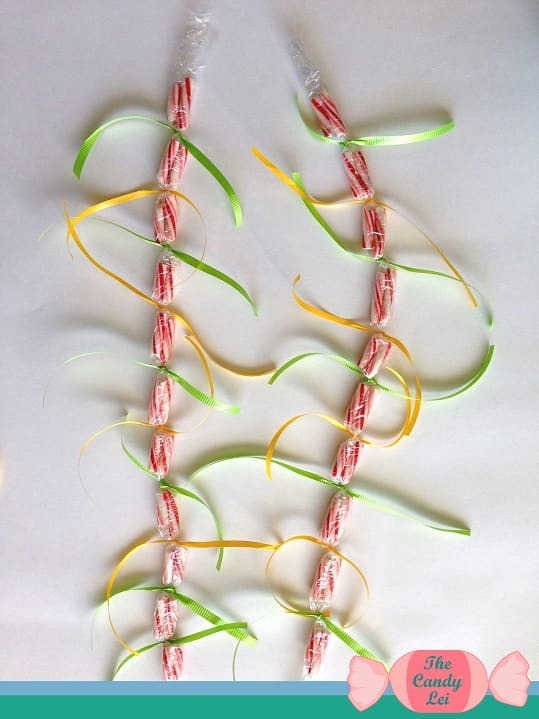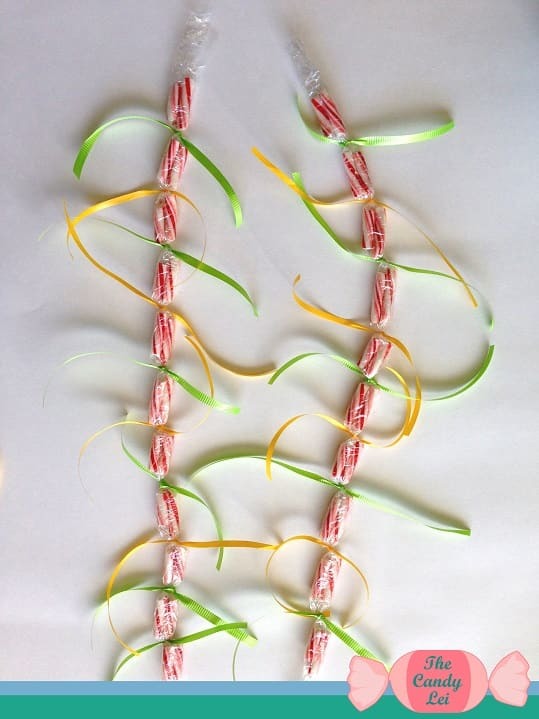 Using the ribbon you just cut, tie it in between each pair of candy canes. To connect the two halves overlap the saran wrap and tie a double knot to make sure the whole lei stays together.
Step 6: Curl the Ribbon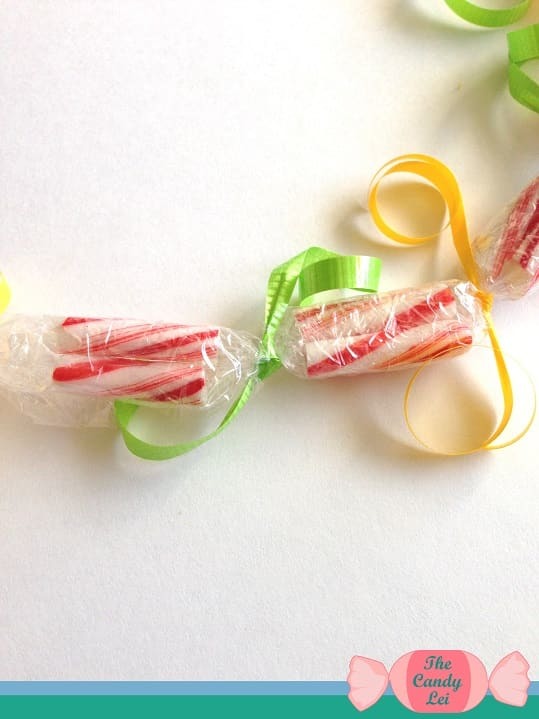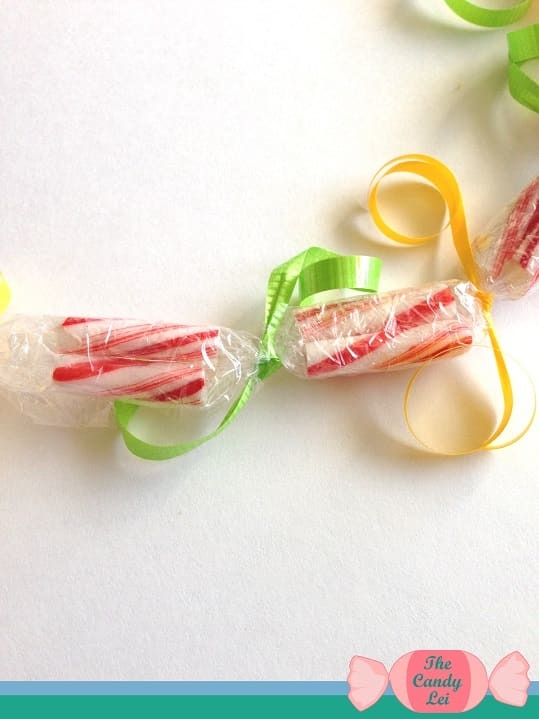 The last step is to curl the ribbon. To do this simply press the ribbon against the blade of your scissors using your thumb. You'll want the scissors to be as close as you can to the knot for maximum curl. Press the ribbon against the scissors as you pull the ribbon through.
Doing this will cause the ribbon to curl. If you'd like a video walk-through take a look at this video.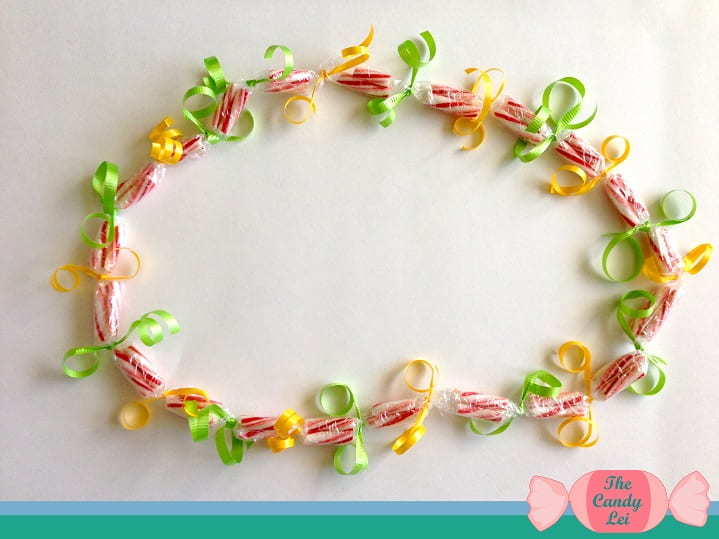 Congrats! You've now finished creating your Candy Cane Necklace and your ready to head to a party. Or if you're looking to throw the perfect holiday luau give these candy cane leis to all of your guests!
If you'd like to get the latest tutorials sign up for our monthly newsletter below!
Ready to make another candy lei? Check out these popular tutorials below: