**This post contains affiliate links and I will be compensated if you make a purchase after clicking on my links.
Today, the most commonly asked question is 'how can I get more out of XYZ?' Everyone wants to make a little time/ resources at their disposal. We all want to be more productive, to squeeze more out of what we already have.
You want to make more out of your day, attend classes, that seminar, or that interview for a part-time job. If you have a side hustle selling stuff to your classmates, you want to write everything down to keep everyone happy.
While innovative productivity tools come up all the time, there is one thing that's stood the test of time – a planner.
It doesn't matter where you live, you will still find a good number of people walking around with planners – not as phone apps, but physical planners. But can you blame them?
Nothing feels good like writing things down on paper. It's probably just in the mind, but a real planner, hold-and-feel-in-your-hand-planner makes planning easier and goals a lot more realistic.
You know, however, that out of all the planners on the market, two models of planners stand out the most – Passion and Panda planners.
 What is the Passion Planner?
A Passion Planner is a base or place that you collect all your thoughts. Though it is called a planner, Passion Planner is your best goal-making partner – it's the most reliable tool for breaking down your short term and the long terms goals, and incorporating those intentions into your life, daily.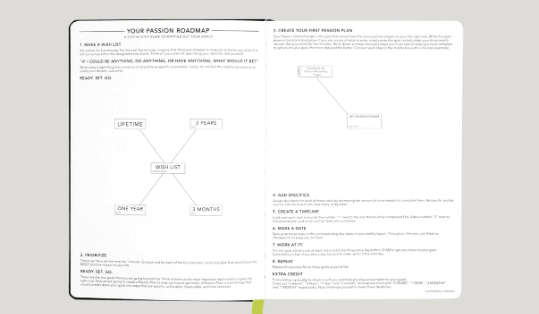 While it's designed to help and encourage you to plan for your future, it also lets you reflect on your past, and above everything else, it allows you to act on the present. It is, in many ways, your coach on paper.
It is also feature-packed with a sketchbook, motivational quotes, gratitude journal, etc. So, if you are looking for an inexpensive life coach to guide your focus into what's important and to accept your ideas and thoughts without bias/ judgment, this is it.
What is the Panda Planner?
Would you like a planning guide to help you rebuild your life from the ground up, to get more out of life, and to rewire your brain cells for happiness and joy? That is what the Panda planner does with its daily, weekly, and monthly organizational sections.
With built-in mini-routines that are based on science and engineered to help you build a positivity and growth mindset, this planner will help you get your life in order, finally. It might be all you need to turn your drab, stressful days into brighter days.
Layout Review of the Passion Planner vs. Panda Planner
The theory behind the Passion and Panda Planners
Passion planner is built on the belief that humans can be the best versions of themselves or better than they were in the past if they have life goal or just a goal to focus on, coupled with a detailed mind map with all the little steps one needs to take to reach a goal.
The Panda planner, on the other hand, theorizes that only a scientifically engineered daily planner will help people become more productive and happy. This planner is expected to help you get your life back through neuroscience and positive psychology. By helping you believe that you are awesome even when everything goes to sh*t, this planner enables you to recognize your badass self, unlocking your focus and organization.
Monthly Layout – Passion vs. Panda
Wondering if the structure of either planner is, and how the planners will help you become more organized?
Passion Planner
This planner helps you focus on your passion (goal). For this to happen, it is structured in a comprehensive, but helpful layout.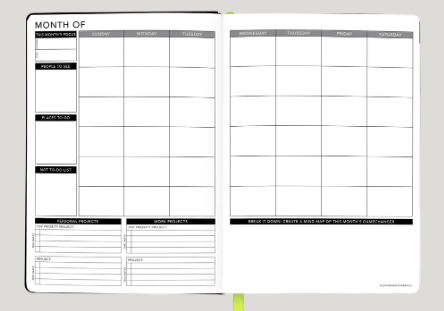 It has the following:
A monthly planner
A space for your monthly focus
A Not-to-do list
Places to go and people to see
Priorities for your work and personal projects
Area for due dates to help you meet your goals before the deadline
Blank space for your month's game-changer.
Then there is the Big Picture Section with Monthly layouts. This helps you track your progress.
Monthly Reflections is a time to reflect on the progress you've made. So, you have to go back to your Passion Roadmap to check off your goals. Reflecting also helps you think about ways of improving in the coming months.
It's also got a short end month checklist which you can use to highlight your accomplishments.
This detailed planner will help you stick to a plan and achieve your goals.
Panda Planner
This planner comes with a 3-month undated planner which will not only let you focus on your attainable goals, but it also allows you to start at any time.
The planner has daily, weekly and monthly sections for organizing different aspects of your life while keeping you accountable.  The daily planner has three sections: Morning Review, Schedule/Tasks/Notes, and Priorities. The weekly planner has Last Week's Review, Projects, and Next Week's Plans.
In the monthly section of the planner, you have the Month Overview, the Plan your month section, and Focus & Daily Habits. The overview saves you from missing appointments, and you can plan your month and figure out ways of avoiding distractions.  At the end of the month, you get to review your goals and achievements.
And if you get overwhelmed by long to-do lists, then you can use the built-in mini routines. The routines will not only keep you focused but keep stress at bay. The routines are engineered scientifically using proven research and is proven to make you more positive while encouraging the development of a growth mindset.
Despite offering a lot, the layout is simple and clutter-free, and it boosts productivity.
Therefore, if you've been having issues being organized or always rush through your weeks and are overwhelmed by deadlines, the Panda Planner could be just what you need.
Weekly Layout Passion vs. Panda
Passion – the weekly layout is not sectioned, but it helps you maintain and manage a weekly schedule by asking you to dedicate a specific amount of time to prepare. It comes with a to-do list section.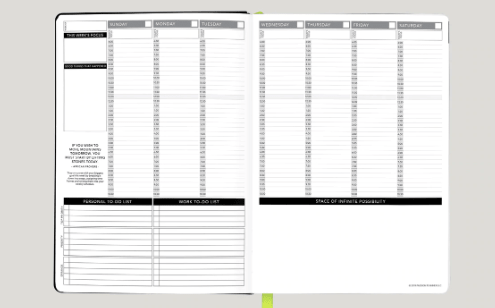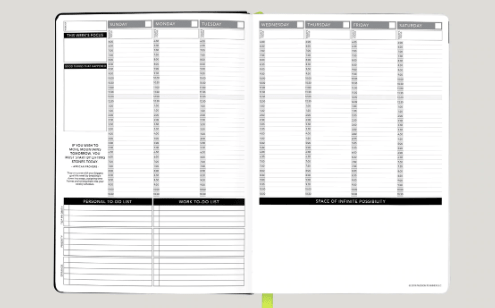 Panda – the weekly layout is detailed with specific sections on what you need to do, and how. It starts off with a one-page introduction into using the planner.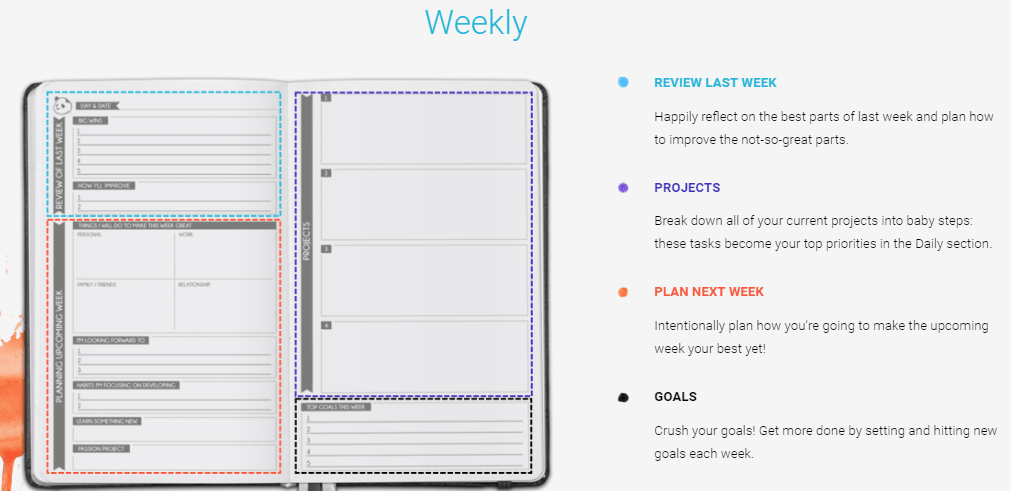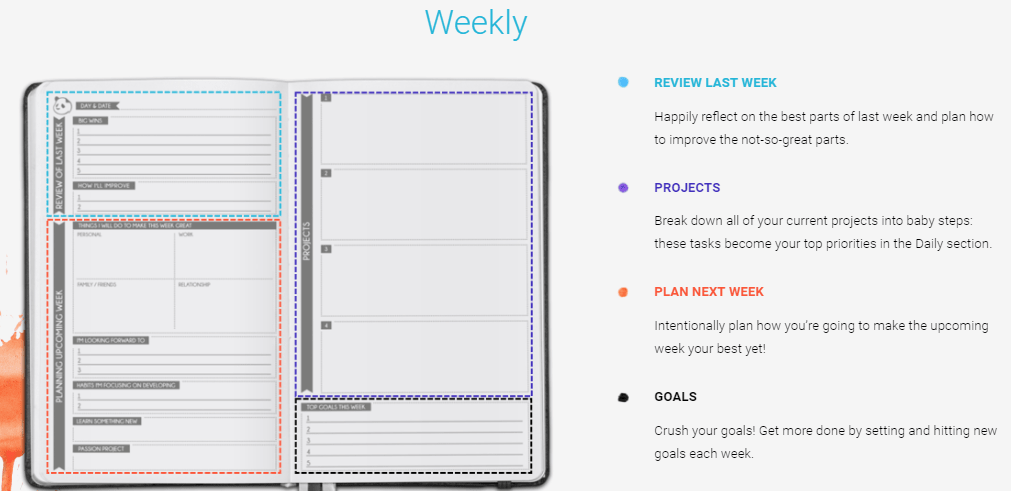 The weekly planner has Last Week's Review, Projects, Next Week's Plans, and Goals. By reflecting on the previous week, you get excited over the best parts of the past week, and you also plan on how to tweak and improve on the not-so-good parts.
In the Projects section, you breakdown all your current projects into the smallest achievable steps/ tasks. These tasks make up the Priorities for your daily planner.
In the Plan Next Week Section, you set intentions on how to make the coming week your best week, yet. Finally, there is the Goals section that helps you do more by setting and hitting your goals, every week.
Other special Pages
Besides the goal crushing bit, your passion planner also comes with a goal setting guide, an appointment calendar, motivational quotes, a work/personal to-do list, daily & weekly focuses a sketchbook, a gratitude journal, and a journal.
The Panda planner, on the other hand, also comes with e-books, a start guide, and a community.
Both planners have creativity pages, but the Passion Planner gives you many pages for creativity than the Panda Planner.
Conclusion
The Passion planner takes you through a comprehensive process of breaking down your goals, into smaller manageable steps by using a goal-planning/ setting strategy –passion planning. Its monthly and weekly prompts help you focus on positivity throughout.
Panda, on the other end, helps you focus on striking a balance in your life through the principles of neuroscience and positive psychology.
It does this by encouraging you to consider your whole self when planning your time; it also considers happiness an integral part of your productivity. And like Passion Planner, it will keep you amped with the monthly, weekly, as well as daily prompts.
As to which of the two planners work best for you, we'll let you decide. Your choice will depend on your goals and needs.
What About a Bullet Journal?
Looking for a different journaling method? Learn how to start a bullet journal. A bullet journal is a more, free form method of journaling. Rather than follow the model illustrated above, you are responsible for creating the journal using collections.
These collections are used to organize everything in your life. You can check out over 60 bullet journal collection ideas for college students as well as specific study tracker ideas for your bullet journal. There are also financial collections and habit collections that help you to organize and track your progress. Check out the post linked above to learn more.