**This post contains affiliate links and I will be compensated if you make a purchase after clicking on my links.
I'll be the first to admit my bikini collection is a little out of hand. There are just so many cute options it's hard to just have a few. And every summer I inevitably come across a good deal and have to buy another, or three.
Some of my favorite bikinis for less than $20 are below. And more than a few of these are among my collection.
Whether you're looking for that perfect spring break swimsuit or the perfect resort bikini, I'm sure you'll find something that will work for you below.
Only $7.39
1. Jewel Neck Mesh Splicing Hollow Out Bikini Set
Look stunning in this classy bikini as you relax on your boat in the middle of the lake. Then inspire jealous in everyone else there when they find out you paid less than $10 for this suit.
Only $18.29
2. Halter Flower Print Flounce Bikini
High waisted bikinis are in this season and this affordable option is an excellent pick. After a quick dip in the pool you'll love relaxing in a lounger reading a good book in this lovely bikini.
Only $19.31
3. Pineapple Pom-pom Flounce Tankini Set
Maybe this isn't technically a bikini but, let's be honest, it's a really cute tankini! Rock this high waisted tankini at the next summer party you head off to. Everyone there will ask where you picked up this affordable suit.
Only $19.59
4. Twisted Polka Dot Halter Bikini Set
Be the envy of everyone on the beach in this fun and flirty polka dot bikini for less than $20. It's hard to believe you can pick up such an awesome bikini for such a great price.
This is one I'll be adding to my collection. I'll be sure to update one I try it on.
Only $17.05
5. Cute Spaghetti Strap Hollow Out Bikini
After a long winter in the gym it's time to show off all that hard work. This strappy pink bikini will do just that as you go for a walk along the shore. Pick up this bikini and strut your stuff on your summer vacation.
Only $8.53
6. Sexy Style Jewel Neck Printed Women's Bikini Set
If you're searching for a comfortable, affordable bikini for less than $20 this is an excellent option. With a printed pattern across the neck and cutouts on the hip this is a lovely bikini for some time poolside.
Only $5.86
7. Ethnic Style Geometrical Halter Bikini Set
At less than $10 this tribal pattern bikini is a steal. Seriously. When you let it slip how little you paid for this bikini you'll have everyone asking how you managed to score such a deal.Relax poolside, on the lake, or strut across the sand in this stunning bikini.
Only $16.37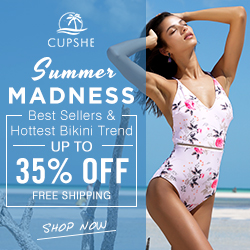 8. Lace Up Print Spaghetti Strap Bikini Set
Show off that bod in this spaghetti strap bikini. While the top is really cute, the bottoms are really my favorite part of this bikini. They are incredibly comfortable. Seriously. And, you can easily mix and match them with lots of other tops.
Only $9.21
9. Halter Neck Printed Zipper Embellished Bikini Set
Be bold and beautiful in this colorful bikini! The zipper on the bottoms is a nice embellishment. I also love the support on this bikini.
Only $9.99
10. Tie Dye Padded Bikini and Boyshort Bottom
Get active on beach day with this sporty bikini set. I love the tie dye look. When I'm headed for a beach day that's going to be filled with volleyball, soccer, and Frisbee, I like to bring a boyshort bikni like this one.
Only $18.49
11. Ethnic Floral Lace Up Reversible Bikini Set
Nothing beats two for the price of one. This cute reversible bikini is the perfect addition to your collection.
Work on that tan with this strapless bikini.
Only $18.49
12. Knot Textured Bikini Set
I'm seeing these bikinis everywhere this season and I absolutely love them.
These textured knot bikinis come in many different colors so you're sure to find one just for you. They are flattering to many body types and are incredibly comfortable for those long days by the pool.
Only $18.99
13. Lace-Up Braided Flower Bikini Set
So I have several bikini sets just like this one and the thing I love about them is they are so easy to mix and match. Once you have a few sets you can constantly mix it up for a "new" bikini look.
Only $18.49
14. Leopard Bandeau Bikini
Animal prints are huge this year. If you don't have an animal print bikini in your collection this is the perfect affordable option to pick up. It's cute, fun, and flirty and you'll be the envy of all at that next summer bachelorette party.
Only $17.99
15. Snakeskin Print Bikini Set
Speaking of animal print, check out this snakeskin bikini. I haven't worn this one but I have no doubt it would look incredibly cute and would really stand out by the pool next to all those pastel bikinis.
Pin for later: