Leaky Wallet? 3 Apps to Understand Your Spending
The Candy Lei is a participant in the Amazon Services LLC Associates Program, an affiliate advertising program designed to provide a means for sites to earn advertising fees by advertising and linking to amazon.com. We are also member of other affiliate programs whose links may be on this page.
Getting control of your finances is a daunting task. It's something I struggled with for a long time.
But then I started exploring financial apps on my phone and wow, there are so many helpful ones out there.
If you're not quite ready to dive straight into creating a full fledged budget the three apps below may be a good place to start.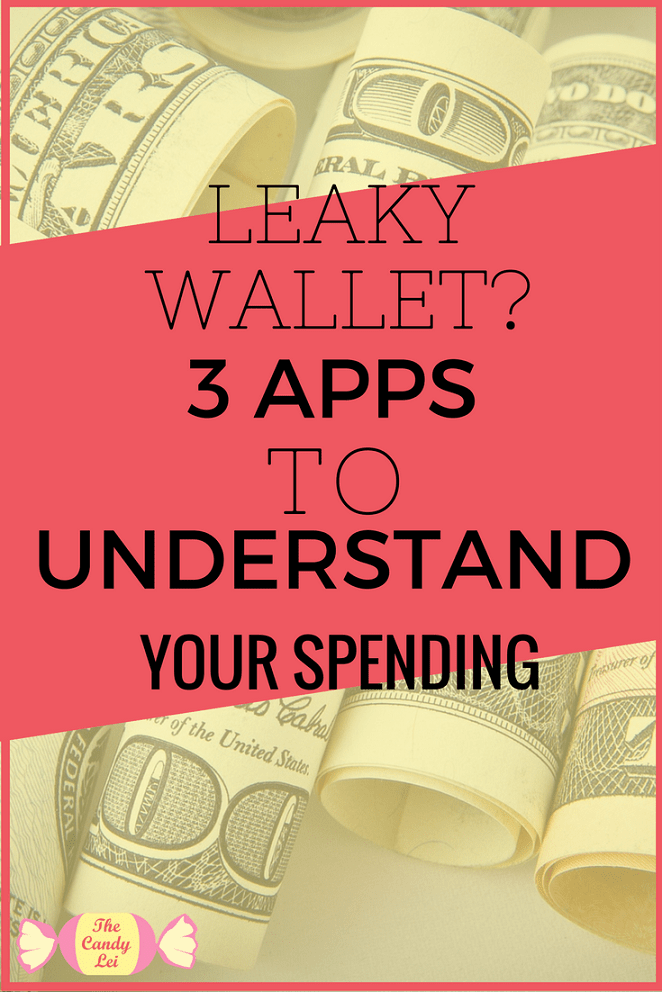 These apps aren't intended for budgeting but rather for tracking where your money is going. The last app on the list, Penny, is my absolute favorite. It's engaging, simple to use, and very informative. Check out my review of each of these apps below.
Time to Set Up: 10 minutes
App Only or Browser version Available: App Only
Total Ratings iOS and number of Stars: 14 Reviews averaging 5 Stars
Total Ratings Android and number of Stars: 14 Reviews averaging 3 Stars (Though, to be fair most of the low reviews are people outside the US complaining that it doesn't work in their country).
Summary: Overall I found this to be a fantastic app. I would classify it as a "big picture" app. If you're not sure where your money is going this will help you figure it out.
It's essentially a financial tracking tool. You can see what your income is, what your bills are, and where else your spending money.
The best part of this app however is its ability to look at your bills and help you find alternative services that could save you money. While I didn't end up switching services I did find a few alternatives in my area for internet I wasn't aware of and they would definitely save me some cash.
Pros:
Track Spending
Easy to use and beautiful interface
Find alternative services to save money
Their advice section has some great articles
Cons:
Can't create a budget
Only available in the U.S.
Newer app that is still getting some bugs worked out
Who Should Use It: People who aren't ready to set a budget but want to get a better picture of their current financial situation.
Time to Set Up: 15 minutes
App Only or Browser version Available: App Only
Total Ratings iOS and number of Stars: 2,449 Reviews averaging 3 Stars
Total Ratings Android and number of Stars: 7,335 Reviews averaging 4 Stars
Summary: I like the simplicity of this app. The setup process was quick and relatively easy. The purpose of the app is to help you understand how much you can spend each month. It takes your income minus recurring expenses minus your savings target and that leaves you with how much you can spend.
After registering for an account you connect your bank account(s). Next the app scans your recent transactions to determine your income. If it isn't quite right you can correct it.
Then you can select your recurring expenses. This is where I ran into a bit of an issue. You are able to select which transactions in your account are recurring expenses but none of the available options were actually expenses, they were just transfers from my checking account to my savings account. Fortunately they do offer a manual option where you simply enter the amount you spend on recurring expenses so I just estimated our expenses and entered them.
Lastly you decide how much of your income you'd like to save using a simple percentage slider.
Once all of that's entered Level Money lets you know how much you can spend each month. As you spend more money your level moves down. You can also see all of your transactions and categorize them as expenses or income.
While it may seem like a pain to categorize all of your transactions you won't have to do it as much as time goes on. The app will learn as you go and categorize things on it's own.
Pros:
Track Spending
Quick setup
Attractive Interface
Focus on saving money
Cons:
Have to do a lot of manual categorization
Doesn't recognize recurring expenses well
Who Should Use It: If you have a tendency to overspend each month and just need a better idea of how much you should spend this app is perfect for you.
Time to Set Up: 20 minutes
App Only or Browser version Available: App Only
Total Ratings iOS and number of Stars: 480 Reviews averaging 4.5 Stars
Total Ratings Android and number of Stars: 710 Reviews averaging 4.4 Stars
Summary: This is by far the most unique app out of the three on this list. It's a chat based app so when you have a question about your finances you just ask Penny.
Overall I've enjoyed using the app though the setup process is a little slow because you have to wait for her to essentially have a conversation with you explaining the app (I found out later you can speed up her chatting speed in the settings section). Depending on your bank it may also take a while to connect and transfer your transaction info.
Penny can automatically categorize your transactions into the following categories:
Food
Transportation
Bills
Income
And Everything Else
I found Penny to be a great way to get a picture of your overall spending. Along with trends in each of the above categories.
One of my favorite features is that Penny will tell you how much money you're on track to spend in each category for the month. Penny will also show you your current spending vs. your previous month's spending.
There's also a new paid version of Penny that allows you to use more categories as well as set and track goals.
I've been using this app for over a month and I absolutely love it. Every time I open the app she shares new info with me.
Pros:
Interactive interface
Helpful graphs and charts
Lots of ways to slice and dice your data
Cons:
Can't create a budget
Limited functionality
Only 5 Categories to choose from
Who Should Use It: People who want a more interactive way to keep track of their spending.
If you decide to sign up for Penny I'd definitely appreciate it if you used my affiliate code. After you sign up it will ask you if you have one. It's all emojis: 🎱⚓🎸 Thanks!
Have a financial tracking app you love to use that's not on the list? Let me know in the comments below.